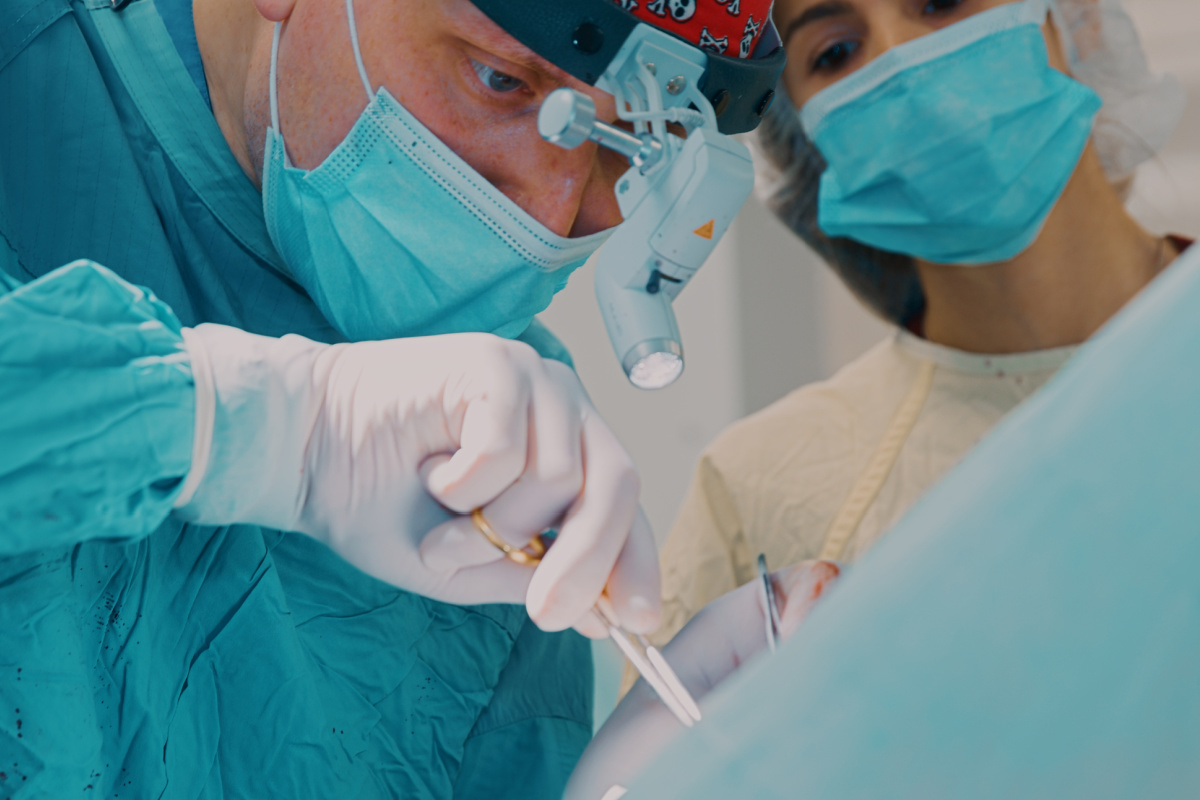 Most of us know when to call the dentist, but you may not be sure when to seek out an oral and maxillofacial surgeon for your procedure—especially if it is something that both dentists and oral surgeons offer. Whether you are seeking a specific oral surgery or are in search of solutions to symptoms like jaw pain, it is key to choose the provider who is most skillful and experienced in treating your needs.
To help you make an empowered choice, here is what you need to know about the different training, experience, and credentials of a dentist vs. an oral and maxillofacial surgeon.
Training for dentists vs. oral and maxillofacial surgeons
Both a general dentist and oral and maxillofacial surgeons (OMS) attend dental school, but oral and maxillofacial surgeons have additional specialty training beyond dental school:
At least 4 years in a hospital-based surgical residency program to learn to treat not just the teeth, but the jaw and facial areas around the mouth, with oral and maxillofacial surgery
Anesthesia training
Training in general surgery, plastic surgery, internal medicine, critical care medicine, and pathology
Hands-on training for treating patients in hospital settings, outpatient surgery centers, ambulatory surgery facilities, and private offices
Some OMS also complete medical school; however, a medical degree is not required to successfully become a practicing oral surgeon
After completing their training, surgeons are eligible to become board-certified by The American Board of Oral and Maxillofacial Surgery (ABOMS), adding another level of trust to their credentials by undergoing a rigorous certification process that includes confirmation of education, licensure, and references, as well as comprehensive examinations. Board certified oral and maxillofacial surgeons are also required to demonstrate their continuing expertise through the annual ABOMS certification maintenance program.
Procedures performed by dentists vs. oral surgeons
What procedures can a dentist offer?
Most general dentists are able to help with the following concerns or perform these procedures:
Routine dental maintenance cleaning
Education on oral care at home
Checkups and x-rays to look for signs of decay or gum disease
Fillings, onlays, sealants, bridges, or crowns to address cavities or tooth damage
Dentures
Root canals
Simple surgical tooth extractions
Local anesthesia
What procedures can an oral and maxillofacial surgeon perform?
An OMS is needed to treat more complicated or advanced concerns, such as:
Wisdom teeth surgery
Dental implants
Complex tooth extractions (sometimes including work with the underlying bone)
Surgery of the oral soft tissues
Cleft lip and palate surgery
Craniofacial surgery
Facial cosmetic surgery
Dentoalveolar surgery
TMJ and other issues with the jaw
Obstructive sleep apnea
Surgery after facial injuries or trauma
Head, neck, and oral pathology (diagnosis and analysis of disease)
Surgery related to orthodontic needs
Local, IV, and general anesthesia
The more complex an oral surgery is needed, the more likely an oral surgeon is to have extensive experience in safely performing the procedure.
When should I see an oral and maxillofacial surgeon (OMS) instead of a dentist?
While the procedures listed above are divided between dentists and OMS, you will find that there is some overlap between what each can perform. This may lead to confusion about which provider to choose. When in doubt about which specialist you need to see, consider the training and experience each has:
Having completed surgical residency training, OMS tend to perform complex surgical procedures more frequently than a general dentist. Ask your dentist and OMS how many of a given procedure they perform in a month or year; an OMS may have more experience in specialized procedures.
OMS are trained experts in the administration of all levels of anesthesia; while dentists offer local anesthesia, IV or general anesthesia may be preferable (or required) to keep you comfortable during advanced procedures (including wisdom teeth extraction).
Do I need a referral to see an OMS?
Generally, it's ideal to have a referral for continuity of care, or collaboration between your doctors. This open line of communication helps to optimize your safety and results. A referral is not always strictly necessary, however. Ask your dental insurance company and the oral and maxillofacial surgeon who you would like to see if either requires a referral; you can obtain a referral from your dentist, primary care doctor (family doctor), or other physician.
Find a board-certified oral and maxillofacial surgeon today
The American Board of Oral and Maxillofacial Surgery (ABOMS) is the only ADA-recognized certifying board for the specialty of oral and maxillofacial surgery in the United States. All Diplomates of ABOMS provide evidence of appropriate licenses and degrees; pass a rigorous two-part exam to Become Certified; and undergo annual Certification Maintenance after joining our organization to demonstrate ongoing professionalism.
When you choose an ABOMS surgeon, you can be confident your doctor has met the highest standards to deliver the highest quality of care in the specialty. Find an ABOMS Surgeon in your area today »