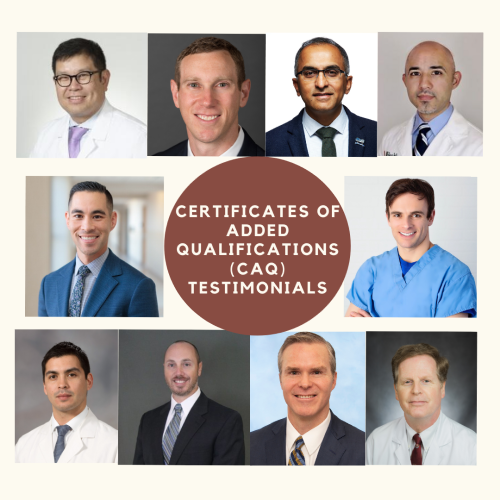 The American Board of Oral and Maxillofacial Surgery (ABOMS) offers Diplomates the chance to earn Certificates of Added Qualifications (CAQ). The ABOMS offers two CAQs: one in Head and Neck Oncologic and one in Reconstructive Surgery and Pediatric Craniomaxillofacial Surgery. Each CAQ is designed to demonstrate significant qualifications in specialized areas and inform the public and colleagues of additional education, training, and experience. Both CAQ certificates are intended to recognize those ABOMS Diplomates who have received additional training and experience and whose practice focuses upon the specialized areas of oral and maxillofacial surgery.
There are currently 28 Diplomates who have obtained the CAQ in Head and Neck Oncologic Reconstructive Surgery and 29 Diplomates who have obtained the CAQ in Pediatric Craniomaxillofacial Surgery.
For more information, download the CAQ Handbooks. It will provide you with all the information concerning eligibility and steps to be taken to apply. We hope you will join your other colleagues who provide these critical services and earn the CAQ.
The next CAQ exams will be held on November 5, 2022, and applications can be completed on your Diplomate profile from June 1 - August 1, 2022. CAQ exams are administered every 2 years.
Are you interested in earning a CAQ? Below are testimonials from 10 fellow ABOMS Diplomates.

"Being a board certified oral and maxillofacial surgeon fellowship trained in head and neck surgical oncology, I feel this certification sets me apart and is an added qualification I can share with the public, my patients, and my colleagues that emphasizes the training and level of care they can expect. Obtaining the CAQ requires preparation and is another way to verify that a surgeon is continuing to increase his knowledge base, in an ever-expanding oncologic field."
– Dr. Ignacio A. Velasco-Martinez
"I was elated to earn my CAQ in Pediatric Craniomaxillofacial Surgery. This acknowledgement validated my work and experience and helped to carve a pathway in our niche specialty. As the fellowship director in my institution, it has been helpful to share this goal with current and prospective fellows. I look forward to helping future fellows prepare for this CAQ and supporting them as they pursue this wonderful accomplishment."
– Dr. Cory Resnick
"Certificates of Added Qualification (CAQ's) are routinely available in many medical fields to designate providers who possess the knowledge and skills to be able to perform complex subspecialized procedures. I'm proud to be the holder of a CAQ in head and neck oncologic and reconstructive surgery from the ABOMS which mirrors the care I give many patients in my practice today. While I do not believe those without a CAQ should be excluded from this practice, if they have experience or training, I do believe the obtainment of a CAQ is one representation of the high levels of achievement required to perform these, often lifesaving procedures, on our patients today."
– Dr. Brent Ward
"Having the additional certificate of added qualifications (CAQ) from ABOMS provides further validation and legitimacy to our training and expertise in head & neck oncologic surgery and microvascular reconstruction. This legitimacy not only extends to other providers within our own specialty, but also to other medical and surgical specialties as well.
With a continually evolving healthcare environment, patients are ever-increasingly aware of provider training and experience. Having an additional certificate of qualifications enables patients to not only feel comfortable in selecting a provider with appropriate training and background, but also a provider who has endeavored to go above and beyond relative to additional vetting of their own clinical knowledge and expertise. Analogous to what board certification is to the specialty as a whole, the CAQ represents further validation of a dedication to excellence amongst individuals choosing to specialize in head & neck oncology and microvascular reconstruction within their own practices."
– Dr. Kyle S. Ettinger
"Our talents are not ours to keep but rather gifts to share unto others, that their burdens may be made lighter. As surgeons we are blessed with the gift of healing so the burdens we lift are often in the form of bodies made better, spirits made stronger.
Because there is no point in the human life where the effects of healing are more far reaching and impactful than those seen in childhood, as healing hands rest on the child our gifts are multiplied and enjoyed long after and far greater than our surgeries could ever portend.
Simply put, the Pediatric Craniomaxillofacial CAQ is emblematic of a surgeon's dedication to this premise, mastery of pediatric surgical skills and lifelong investment in improving the lives of children."
– Dr. Jason Dashow
"The CAQ provides a means of informing the public and other medical professionals that we've attained the requisite expertise in our given subspecialty. It is our professional organization's way of maintaining the highest standards of excellence and gives those around us confidence in the quality of our knowledge and training."
– Dr. Michael Gentile
"Certificate of added qualification in head and neck oncology has provided me approval for professional privileges in NCCN designated cancer center as well as Veterans Administration Medical centers in review my competing ENT and surgical peers. This offered me the privilege to offer comprehensive head and neck oncological services from oral, skull base, thyroid and parathyroid, cutaneous malignancies etc along with the regular head and neck neoplasms and microvascular reconstructions.
Additional appointments in departments like Dermatology etc and academic participation with collaboration in associated surgical specialties of surgical oncology, neurosurgery, otolaryngology and plastic surgery were facilitated.
The exam by itself may not create opportunities but the added recognition and justification of training, knowledge base adds to confidence among patients seeking care. Ultimately this is the privilege we are looking for by adding such qualifications."
– Dr. Srinivasa Chandra
"The Certificate of Added Qualification (CAQ) in head and neck oncologic and reconstructive surgery represents quintessential support of one's formal training in our subspecialty in oral and maxillofacial surgery with practice at a high level. The CAQ legitimizes our training and practice and permits discovery of such by the public to whom we hold ourselves out. Just as accreditation of our fellowship programs authenticates their educational validity and acceptability, so does certification of individuals in the eyes of our astute patients and colleagues. I applaud the American Board of Oral and Maxillofacial Surgery for its development of this certification process that permits our subspecialty to be justifiably recognized."
– Dr. Eric R. Carlson
"The Certificate of Added Qualifications (CAQ) from the American Board of Oral and Maxillofacial Surgery was designed initially for people who focus on and demonstrate significant skills in oral, head and neck oncology and micro vascular reconstructive surgery. The CAQ is a great tool to inform the public and our professional colleagues that the qualified Oral & Maxillofacial Surgeon who holds this certificate has completed specialized education and an additional examination process, making the surgeon an expert in this area.
Having the additional certificate of qualification provides more validation of our work and experience and it shows the surgeon's dedication to treating oral, head and neck oncology and Micro vascular reconstruction. It also gives the patients assurance and more confidence in the treatment they are receiving."
– Dr. Ramzey Tursun
"Head and Neck Oncologic and Microvascular Surgery has become an integral part of the Oral and Maxillofacial Surgery Specialty in the last 2 decades. Being a surgeon that has had fellowship training and a practice dedicated to this field, it was very important to me to have that added qualification in Head and Neck Oncologic and reconstructive surgery certificate when it became available. Not only does the Certificate of Added Qualification require didactic knowledge in the field, but it also requires the surgeon to show that they have a true robust practice in Head and Neck Surgery. By having strict requirements, it shows the dedication of our Board and our specialty in promoting, protecting and furthering this important expanded scope of OMFS."
– Dr. Melvyn Yeoh