Since 1946
The ABOMS Legacy
Since 1946, The American Board of Oral and Maxillofacial Surgery has seen over 60 presidents. For more than 70 years, top leaders in the OMS field have served as ABOMS president. All of our past presidents have contributed to the growth and success of ABOMS and have helped us get to where we are today.
2020s
Larry L. Cunningham Jr. 2020-21
Vincent J. Perciaccante

2021-22
2010s
David A. Bitonti 2019-20
Alan S. Herford 2018-19
Mark D. Zajkowski 2017-18
Richard G. Burton 2016-17
Colin S. Bell 2015-16
Peter E. Larsen 2014-15
G.E. Ghali 2013-14
Wayne S. Atebara 2012-13
Mary A. Delsol 2011-12
Mark E. Wong 2010-11
2000s
Stuart E. Lieblich 2009-10
B.D. Tiner 2008-09
Eric T. Geist 2007-08
Kirk L. Fridrich 2006-07
William J. Nelson 2005-06
James Q. Swift 2004-05
Edward Ellis III 2003-04
James R. Hupp 2002-03
David E. Frost 2001-02
R. Dean White 2000-01
1990s
Paul A. Danielson 1999-00
R. Bruce MacIntosh 1998-99
Thomas P. Williams 1997-98
Thomas W. Braun 1996-97
John P.W. Kelly 1995-96
J. David Allen 1994-95
Douglas P. Sinn 1993-94
Leete Jackson III 1992-93
Donald M. Hagy 1991-92
James E. Bertz 1990-91
1980s
Leon F. Davis 1989-90
Robert E. Huntington 1988-89
John N. Kent 1987-88
Lionel Gold 1986-87
Bill C. Terry 1985-86
John J. Lytle 1984-85
Charles C. Alling III 1983-84
Phillip J. Boyne 1982-83
Frank Pavel 1981-82
Dan E. Brannin 1980-81
1970s
Irving Meyer 1979-80
Marvin E. Revzin 1978-79
Thomas P. Quinn 1977-78
Phillip T. Fleuchas 1976-77
Fred A. Henny 1975-76
Robert B. Shira 1974-75
Horald E. Boyer 1973-74
Jack B. Caldwell 1972-73
Lowell E. McKelvey 1971-72
Charles C. McCallum 1970-71
1960s
Robert V. Walker 1969-70
O. Lee Ricker 1968-69
R. Quentin Royer 1967-68
Claude S. LaDow 1966-67
Donald E. Cooksey 1965-66
J. Lorenz Jones 1964-65
Gustav O. Kruger 1963-64
James R. Hayward 1962-63
Athol L. Frew 1961-62
Daniel J. Holland 1960-61
1950s
P. Earle Williams 1959-60
Thomas Connor 1958-59
J. Orton Goodsell 1956-57
Don H. Bellinger 1955-56
James R. Cameron 1951-56
Howard C. Miller 1946-50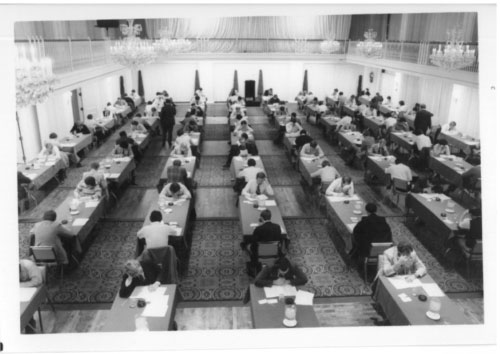 Our History and Mission
The American Board of Oral and Maxillofacial Surgery has been in existance since 1945, serving as the only certifying board for the Oral and Maxillofacial Surgery specialty.