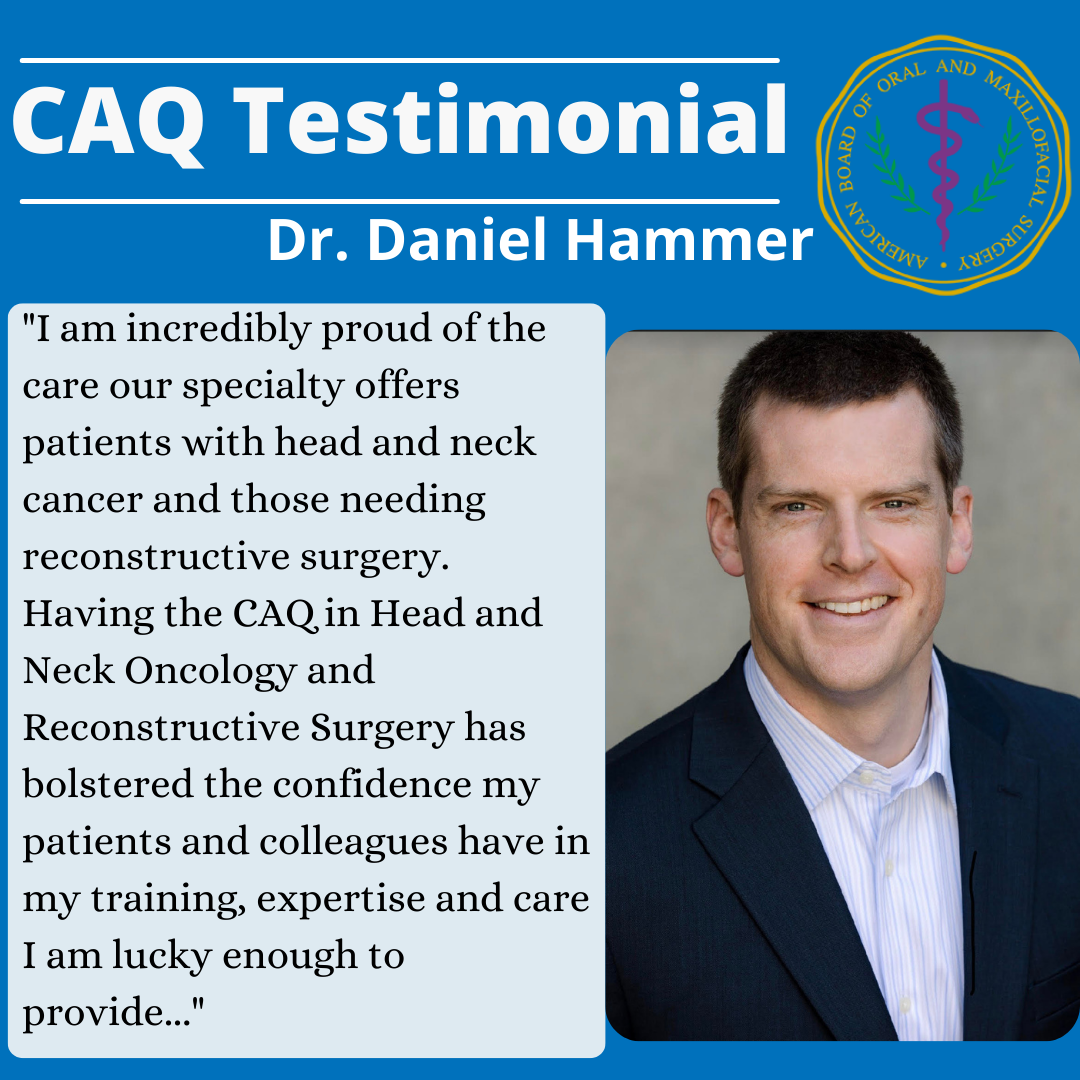 Applications for Certificates of Added Qualifications (CAQ) are now open on Diplomate profiles. The ABOMS offers two CAQs, one in Head and Neck Oncologic and Reconstructive Surgery and the other in Pediatric Craniomaxillofacial Surgery (Cleft and Craniofacial).
Dr. Daniel Hammer shares his positive experience with a CAQ:
"During a recent clinic session, a patient of mine with oral cancer was asked by her mother, 'So, is Dr. Hammer an ENT?' I overheard the question and waited to hear my patient's response. She responded, "He is an Oral Surgeon that has experience treating oral cancer, he knows what he is doing." The mother was obviously confused, and I could not help but to jump into the conversation. I explained my training and current practice to set her at ease, which was effective. However, when I shared with her that in addition to being board-certified, I have a Certificate of Added Qualification (CAQ) in Head and Neck Oncology and Reconstructive Surgery, she simply responded, 'That works in my book.' I gave a smile and her daughter laughed and we continued her appointment.
Patients today understand the importance of board certification, and many seek that qualification when choosing a surgeon to trust with their care. They trust board-certified surgeons because the surgeon has been vetted by an objective third party whose sole mission is to protect the public and advance the patient care delivered by that given specialty. Likewise, a Certificate of Added Qualification further endorses a surgeon in their area of practice and tells the patient that the surgeon has the training, knowledge and clinical practice deserving of this distinction.
In addition to patients, my CAQ has proven valuable in my interactions with colleagues from other medical specialties and during the credentialing processes at several hospitals. Like my patient's mother, many colleagues and credentials committees do not understand the broad scope of contemporary Oral and Maxillofacial Surgery.
When I left my fellowship in Fort Worth, I was headed to a hospital in which OMS did not treat patients with malignancies and did not have a microvascular surgeon on their faculty. In addition, in a metropolitan area of over 3.5 million people there were no Oral and Maxillofacial Surgeons specializing in Head and Neck Oncology or Reconstructive Surgery. The idea was confusing to many within the Navy and civilian sector alike. The request for privileges in the sub-specialty was even more confusing to credentials committees at my primary hospital, the local academic medical center, and the VA.
In all settings, by educating speculative colleagues of my CAQ and the process to achieve the qualification (additional education, practice experience and exam) at least some of their initial apprehension was relieved. Many medical specialties from Plastic Surgery to Family Medicine have CAQs to signal both the public and healthcare community that the professional has the needed additional training and experience to safely treat the public in these specialized areas of practice. The familiarity with the CAQ process of other specialties proved extremely valuable as I approached credentials committees. The concept of an Oral Surgeon treating Oral Cancer was still foreign to many, but they did recognize the significance of my CAQ by granting me privileges that had never been granted to an OMS at their hospital.
I am incredibly proud of the care our specialty offers patients with head and neck cancer and those needing reconstructive surgery. Having the CAQ in Head and Neck Oncology and Reconstructive Surgery has bolstered the confidence my patients and colleagues have in my training, expertise and care I am lucky enough to provide."